Pearl & Caviar: The Boho-Style Flavor of the Month
Boho-style lovers unite! We have been searching for this month's favorite brand and the verdict is finally in: Your top pick, and our personal go-to, is Pearl & Caviar.
Traveling back in time, the essence of the bohemian style is a laid-back and free-spirited aesthetic that mixes artistic expressions - and sometimes cultures - into an eclectic style with an emphasis on organic elements. The modern boho-style is no different. In fact, you can't call it boho if it doesn't fit the above criteria and if it does not combine comfort and elegance effortlessly.
Enter Pearl & Caviar. Outstanding resort wear outfits inspired by the Grecian-chic culture and heritage and made in Greece, making the holiday lifestyle an everyday occasion.
The apparels feature geometric patterns, clean lines, and minimal elements which are jacquard woven on organic cotton fibers, creating timeless pieces that are lightweight and comfortable but also feminine and fashionable at the same time. No wonder we all adore it! In fact, the brand has been featured in The Times Online and is available at internationally renowned retailers such as Bloomingdale's, The Ritz Carlton, Four Seasons Hotels and Resorts, and, of course, 2theLittleStore!
Let's get into it and show you 5 of the hottest choices for Summer 2023.
1.
The Blue Finikas Dress by Pearl & Caviar
A chic flared dress with mid-length batwing sleeves and an adjustable waist belt. The design resembles the pattern of palm trees.
2.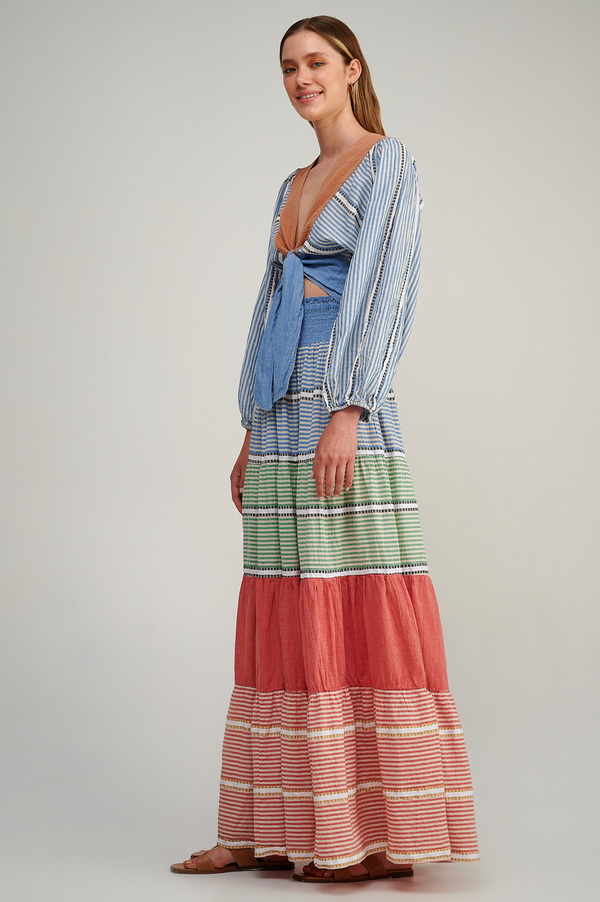 The Folegandros Top by Pearl & Caviar
A multicolored deux-pièces outfit that can be worn in combination or separately.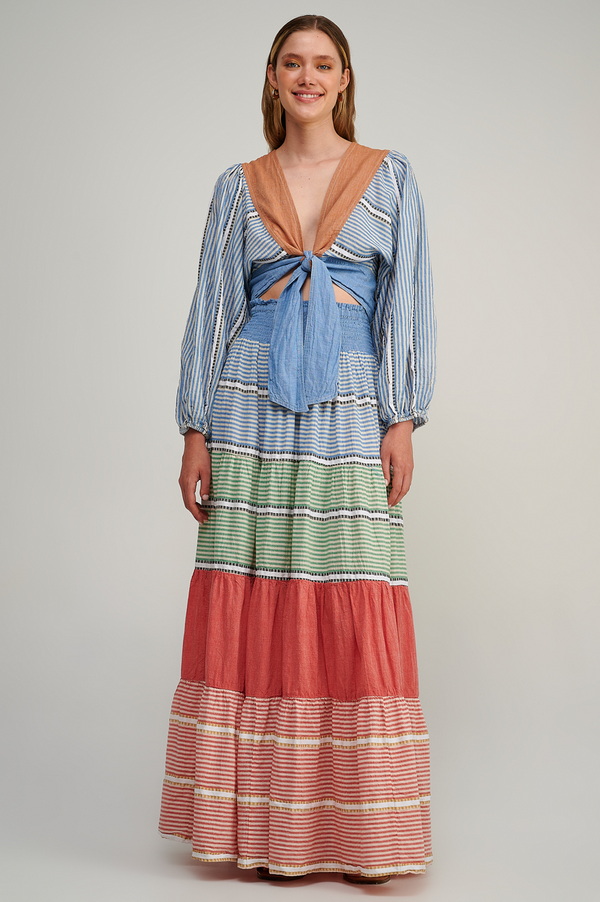 The Folegandros Skirt by Pearl & Caviar
A multicolored deux-pièces outfit that can be worn in combination or separately.
3.
The Milos Dress by Pearl & Caviar
An embroidered maxi dress with intricate flowers featuring wide long sleeves, adjustable straps on the waist, and a lightly ruffle pleated skirt.
4.
The Kastelorizo Dress by Pearl & Caviar
A romantic flared maxi dress with stripes featuring delicate spaghetti straps and an open back.
5.
The Knossos Dress by Pearl & Caviar
A classic white tunic flared maxi dress with geometric embroidery in bronze and metallic finishes.
Discover the latest Pearl & Caviar collection in 2theLittleStore and add these beautiful holiday outfits to your collection!

Don't forget, you get free shipping on all orders over €250!